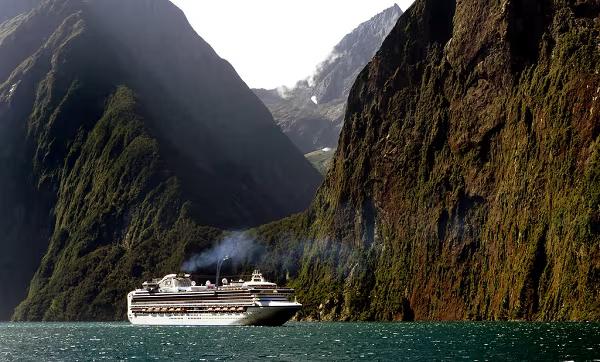 How important are cruise ships to local tourism?
---
Cruise ships have been making headlines again this summer for all the wrong reasons. Port calls have been cancelled because vessels are not meeting biosecurity standards. To make matters much worse, Cyclone Gabrielle has upended cruise ship plans in the Eastern North Island coast. Here we look at the importance of cruise ships to regional economies.
Cruise ship expenditure in New Zealand has been rising since Stats NZ first started recording it in 2015. Over the year to June 2020, cruise ships injected $547m of spending into the New Zealand economy. The 2020 season was cut short by the closing of New Zealand's border in March 2020, so expenditure was down 3.2% on 2019, but 2020 was still 23% higher than 2018 and 85% higher than 2015 (see chart 1).
Cruise ship expenditure is made up of spending by passengers and crew on things such as shore excursions ($356m, 65% of the total in 2020) spending associated with the actual cruise ships on necessities such as shipping agents, marine fuels, produce and other supplies ($139m, 25%) and GST ($52m, 10%).
Between 2015 and 2018, the number of cruise ship passengers visiting New Zealand rose 45% but total spending by passengers rose but a substantially larger 77%. So, not only has New Zealand been attracting more passengers, but passengers have also been spending more on average.
But it's been a challenging few years
Measures to restrict the spread of COVID-19, such as the closing of national borders to tourists, effectively ceased the global cruise ship industry for much of 2020, 2021 and 2022. Stories of vessels such as the Diamond Princess, the first cruise ship to have a major COVID-19 outbreak on board which resulted in 9 deaths, will have done little to shore up confidence in a swift return to normality once the pandemic passed.
It's been a challenging few years to say the least, not just for the cruise ship operators themselves but for the regional businesses that look forward to an influx of international tourists whenever one of those towering white vessels glides into port.
This summer hasn't been plain sailing
Which brings us to this summer – the first time in three years that cruise ships have been able to dock at New Zealand's ports. Except that new challenges (or at least, old challenges once forgotten) have presented themselves with Biosecurity NZ requiring vessels to be sufficiently clean before they can visit special marine areas such as Fiordland, the Bay of Islands, and Akaroa, and adverse weather events in the Upper North Island.
By 12 January 2023, 5 vessels had had to cancel port visits because they did not meet biosecurity standards. Biosecurity hazards can include sea snails, algae, barnacles, tubeworms, and hydroids that cling to ship hulls, and which threaten our marine environment and resources if they become unstuck while in protected New Zealand waters.
So far, at least one cruise ship has cancelled its call to Napier in late February. Despite the fact that many operations in the region are getting back to their feet, the extent of damage in regions such as Hawke's Bay and Gisborne highlights real concerns that Cyclone Gabrielle might well have put an end to the cruise ship season in these regions.
Cruise ship spending makes only a small contribution to retail sales
Chart 2 shows that expenditure by cruise ships is small beer in the context of retail sales overall, making up just 0.6% of retail sales nationally in the year to June 2019, and 2.6% in Marlborough, the highest regional proportion by some margin.
Some regional tourism sectors depend on cruise ships more than others
It probably goes without saying that the tourism sector is more dependent on cruise ships than other sectors. Nationally, cruise ship expenditure made up 3.3% of total international tourist expenditure in the year to June 2019, and 1.9% of total (domestic and international) tourist expenditure.
Spending by cruise ships means more to some regional economies than others. Chart 3 shows that in the year to June 2019, Marlborough, Bay of Plenty, and Hawke's Bay stand out as the regions most reliant on cruise ships, with cruise ship spending making up 5.9%, 4.6% and 4.3% of total tourist spending respectively. Auckland, Wellington, and Southland rely on cruise ships for just over 2% of their tourist spending. Northland, Otago, and Canterbury come in at just over 1%.
Cruise ships are vital to some regional operators' bottom line
This analysis has been a fairly broad so far. In the context of tourism spending and consumer spending, cruise ship spending is not overly significant. But for regional businesses such as tour operators that cater to tourists and cruise ships in particular, the absence of cruise ships and international tourists more broadly in the past few years has been challenging. Now add to that the cancellation of port visits at short notice which mean local tour operators have bookings cancelled at the last minute, and the devastation caused by adverse weather. Every vessel that isn't able to make a stop at a local port will count towards these regional tourism operators' bottom line in what was expected to be a year of recovery.